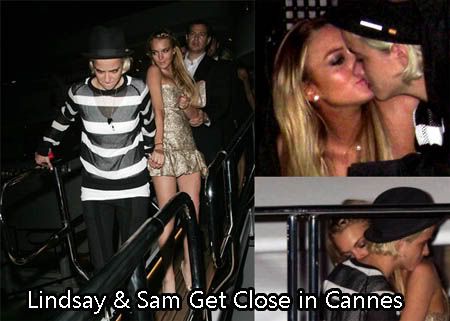 So it has been brought to my attention by alot of my lesbian friends that nothing is sexier to them than turning a straight girl into a pussy licking strap feening monster, and because I have conquered this task many times I have decided to share some of my tips with my friends and my readers enjoy. Read them and pass them on because I figure if the majority of girls are gay then the government will not have any choice but to let us marry.
Tips
1.Play the Best Friend Role: Give her advice on her boyfriend, go shopping together, go out to lunch, (pick up the check) send her random text messages daily, exchange secrets (even if yours isn't a real one) tell her you bored and yall should have a sleepover. All these thing is helping you build her admiratin and trust.
2.Promise her financial gain: Don't confuse this with given a bitch your money, only the promise of it will be enough to keep a straght girl holding on. I don't mean to offend anyone, actually I don't care but most straight girls I know are gold diggers. So one day when yall texting let her know you admire her independence and you are so proud of her and that if she ever needs your help with anything you are there for her because you know its hard trying to be independent. *sidenote this can only work if you are not broke as hell yourself* she will jump on that like bee's to honey. Guranteed she will text you back "thanks babe wink"
3. Invite her over to your place to chill, and randomly have your strap out: So you invite her in have it like on the side of the sofa, you know a place where you could have accidentally left it, leave it there until she sees it and ask what is that? This is your chance to let her know how good you puts it down so respond like "My dick, me and my girl was using it last night and I almost through my fucking back out beating it in" I know this sounds vulgar and harsh but trust it will be just the statement to get the gears in her lil imagination going. She will probably act like she's appalled but trust she's not she really curious. This is usually where the questions begin "I mean what is it like to fuck a gir" "What does it feel like?" this is your time to slide a joke in there like " I can always show you.....lol" (knowing you dead ass serious)
4. Text her Randomly borderline gay texts: Starting with the words Bae, Baby, Babe, Boo, Sweetie, and Sweetheart! She will get the message and start wondering if you like her not.
5.Invite her to the Gay club: This is her time to see you interact with other girls, and her time to see if this is something she could actually see herself doing. Make sure this isn't a night where you think some drama might pop off, then she will be like "I don't know how you can be GAY, GAY girls are full of drama!" Make sure its a fun night, so she will go home thinking damn they have fun.
6. Invite her over for a sleepover and scary movie: Hold her hand while yall watch the movie, Most straight girls don't think much of holding hands and being close with their friends, when the movie is over give her a big shirt to sleep in no bottoms, Make sure you lay in the bed where you are close, but not invading her space this is tricky, whichever way she sleeps you sleep the same way too so at night you can accidentally spoon, if she wants you, which she probably will if you follow all the tips, she will scoot her ass close to you.............and um u take it form there, but go slow (at first)
-GOOD LUCK